❶ New!! Lutron RA-8ANS RadioRA Multi Location switch w/ Color + Wallplate option
$ 185.00 $ 250.00
start_elivehelp_btncode
end_elivehelp_btncode
end_display_feedback_code_window
 ★New!! Incredibly Rare to find in stock anywhere!
Lutron RadioRA RA-8ANS 8 Amp Switch RA Light Control - Your Color Choice - White, Light Almond, Almond, Ivory, Black, + I stock the Satin Colors too - they are just $15 more like Satin Snow White, Biscuit, Midnight, etc.
Please note stock is subject to change any time.
These are the newer style with terminals for hookups and the FASS pulls straight out. It does not slide like in the photo. I do have those - they come in single or multi-locations but they have wires for hookups not terminals. I also test each device before I ship it out so you are guaranteed a functional device!
★Buy it now includes  Free shipping, delivery confirmation & insurance!
Available colors with matching wallplates option is below:
Gloss:  White  RA-8ANS-WH (New  + Lutron Gloss White Screwless wallplate)
Gloss: Almond  RA-8ANS-AL (New   +  Lutron Gloss Almond Screwless wallplate)
Gloss: Light Almond  RA-8ANS-LA  (New   +  Lutron Gloss Almond Screwless wallplate)
Gloss: Ivory RA-8ANS-IV  (New   +  Lutron Gloss Ivory Screwless wallplate)
Gloss: Black RA-8ANS-BL (New   +  Lutron Gloss Black Screwless wallplate)
I also have several of the other satin colors in stock as well!
Lutron just increased the cost of the color change kits to $15 each.
Satin colors are $15 more 
Snow White -  (New + Lutron Satin Snow White Screwless wallplate)
Biscuit -  (New + Lutron Satin Biscuit  Screwless wallplate)
Midnight -  (New + Lutron Satin Midnight Screwless wallplate)
Don't like white - I can remedy that - See more Below.  Lutron has 26 different colors for switches, dimmers, keypads + outlets with matching screwless wallplate color options - Including satin and stone colors - which can be changed easily at any time. Changing your wall color is harder! - Switch plate can be changed without removing switch or mounting wallplate from the wall - decorators dream invention! They even have stainless steel wallplates (but not switches) - Black with stainless covers looks amazing in a modern home. Pair these with a motion sensor and you'll never have to touch a light switch again!
Just message me today and I will email you my 34 page Brochure on Radiora2 and all of its Fabulous Options or go here:   http://t-crealty.com/Love-your-home-again-with-RA2.pdf See page 16 & 17 for photos of all of your color options. I can order any color they offer for you.
RadioRa RA-8NS

• LUTRON RADIORA Switch
• Single Pole/ Multi-Location

• 120 Volts

• Uses standard single pole or multi location wiring for easy installation in any home, fits any standard electric box

• 10 year power failure memory
I also have several more New in open boxes RA-6D, RA-10ds, Repeaters, Master Entry sets and the New Car Safe Entry Package as well - RAMC-MFE-WH with (2) RA-VCTX-WH Remotes if you are interested in purchasing that extra and other RAMC-10T-RL-WH units.  Boxes may show slight storage wear.
Guaranteed to work.
Please feel free to ask any questions.
Benefits of total light control
perfect for any home new construction or retrofit
no new wiring simply replace standard switches with RadioRA dimmers using existing wiring
scalable and expandable
saves energy and extends bulb life
matching components, accessories and wallplates available in a variety of colors and finishes
System Overview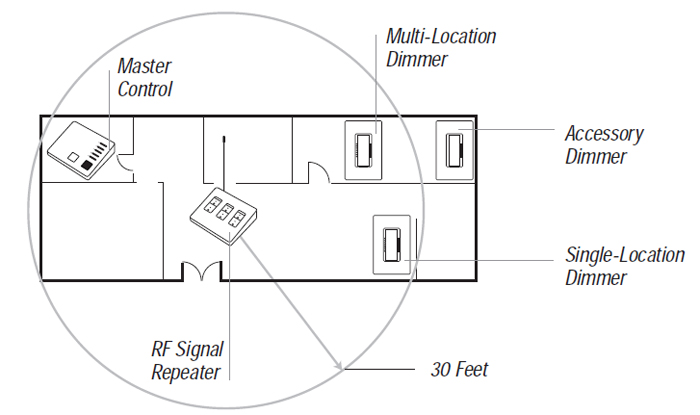 Features
Design allows for color changes without replacing the control
Multiple location dimming from Dimmer and Accessory Dimmer
Screw terminals and push-in connections simplify installation
Shallow backcover takes up less room in the wallbox
Allows local control of one circuit of lights in a RadioRA system to turn lights on or off and to adjust light intensity
Dimmers always operate locally and do not require central system control
Uses conventional 3-way and 4-way wiring
Specification

Style
RadioRA
Control Type
Switch
Load Type
Incandescent/Magnetic Low Voltage
Pole
Single Pole/Multi Location
Voltage (V)
120
Finish
Gloss Finish
Color
White
Max Capacity (W/VA)
8 Amp
Standards
UL Listed and CSA Certified
Warranty
1 Year Limited
Downloads
 ★ Buy it now includes  Free priority shipping, delivery confirmation & insurance! Note - if you don't want white wallplates - I can order the color you want at wholesale cost. Message me today with your email address for a link to all of your options.
Terms:
Free Shipping, delivery confirmation + shipping insurance. Guaranteed to work.
Offers may be considered but keep in mind eBay charges @5-7% for me to sell + Paypal & USPS Fees- Ouch indeed!
Please remit payment via PayPal within 3 days.

Please provide confirmed mailing address

I will ship within 1-2 business days of your Cleared payment
Buy it now requires instant payment
Buy multiple items & I'll upgrade to priority shipping
Replacement available if still in stock (may be different color)
Please Note - Radio RA original is not compatible with Radiora2 (Ra2)
Used Radiora or Radiora2 units will need to be reset to factory (easy to do)
Used units will show normal use with some scratches
Need a whole starter package - let me know and I will put one together for you
Once you experience light control - you'll never go back to flipping a switch - guaranteed.
Auction is for 1 item unless specified otherwise. Ask me if you need more - I may have new or used still in stock.
I am a huge Lutron fan so feel free to ask any questions - I have installed Maestro, Maestro wireless, RA & RA2
I can help with most questions about installation as well. No more X-10 for me - Lutron is truly the only way to go.
14 Day Return if defective. I guarantee all items to work - Buyer pays return shipping

Return Policy -  Returns only accepted if defective (which rarely occurs due to Lutron's Fabulous Quality Controls). Please return defective item insured with delivery confirmation + insured and upon receipt another will be immediately sent to you if in stock or ordered & shipped to you if not on hand. There is a 20% restocking/handling fee to cover shipping, handling & eBay/paypal fees if you changed your mind and no longer want the item only as long as long as it was not used/installed or if upon return the item is not defective. If items show they were installed/used - there is a 30% restocking/handling fee.  If you do not like the color - just let me know and I can order color change kit for you.
Thank you for considering my auction(s)! If you need more than one or multiple items - feel free to contact me anytime - I want you to be happy with your purchase - please contact me immediately if there are any problems. Message me today with your email address for a link to all of your options.I guarantee my items and I will resolve, replace or refund upon return of the item(s). Also I ship insured so we are both protected!
Related Products