Sivoia QS and Triathlon Motorized Shades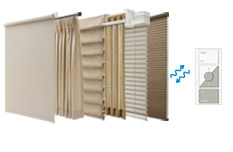 Interested in Shades to your Home?
Are you looking for a Motorized Shading Solution?
Consider adding Lutron's Sivoia QS Wireless Honeycomb or Roller Shades. Click here for more motorized shading details. We specialized in several different shading solutions from Battery powered Cellular Shades & Roller Shades to wired power options for drapery tracks, venetian wood blinds, horizontal sheer shades, Kirbe Retractable Drapes and even dual Roller Shades so you can have both Privacy Sheers & Room Darkening Shades on one window.Cost for these differs greatly but you can get a bit more information by clicking here.
The battery powered line is now called the QS Triathlon Shades which now includes a battery operated Roller Shade. I also c
arry the Serena shades but be aware these can not be added to timeclocks or RA2/QS automation systems. They are pico remote controlled only.  And trust me - having these shades auto open and auto close everyday is worth the extra expense. Set them and forget them forever. Here is a quick demo:http://www.youtube.com/watch?feature=player_embedded&v=hMecpwhYJ3w
Want Exclusive Access to Special Product Releases and Limit Stock Notifications? Click here to get on Limited Time Offer emails..
Contact me directly with any questions - I use this system in my Home everyday & just love it!  Text or Call us at 541-331-3421 or email smarthomes@t-crealty.com today!
I recommend that you sign up for a service I offer to my clients - clicking here will grant you Exclusive Access to product releases and limited time offerings that do not make it to the website including shades and shade motors!