Professional Programmed RadioRA®2 & Motorized Shade Control Systems
Are you new to the idea of Light & Shade Control?  
Go here to view an interactive demo 
Or are you looking to add convenience to your life?
Look no further - we can integrate Lighting controls, HVAC controls and even motorized Shading Solutions into a simple to use  home automation system that you can control from your Smartphones &/or tablets.
I can design the perfect RadioRA®2 Home Control System + order/ship anything Lutron &/or RadioRA2 directly to you that your heart desires (Free shipping if order is over $300) You'll enjoy your home again plus all the other benefits energy savings, safety, no more running around the house to turn on all the lights & adjust them to just the right level for entertaining - 1 button can do that for you instead.

READY TO GET STARTED? Just choose & remit payment for one of the RadioRA®2 starter kits listed on this page and you are automatically reserved for the next opening for system design & programming. I will help you customize the perfect system for your needs.
We can even tie this in to a cellular modem controlled, self-monitored security system as well.  Giving you one app to remotely control your Home, Vacation Home or even your Office (or even all three)!
Available programming slots & inventory are all time sensitive so don't delay & sign up today.
You can start the process via our Planning Worksheet which is available by clicking here.
We stock both new and some used items - just scroll down the end of the page for devices.
If you are ready to get started - please purchase a Starter Kit to secure my next design & programming opening.
Have an existing system? Maestro or Maestro Wireless System, Radiora Classic, Homeworks, - I can help you resell it or if you have a RadioRA Classic System - Lutron is offering a trade in program for a limited time - Click here for the full details and the inventory list I will need back to give you a Trade in Estimate.
Plus
Click here to view & print my planning worksheet - time is of the essence as my inventory is time sensitive & I only have a few openings a month for programmed systems. 
Fabulous TIP - If you are in the process of building a home or addition - I can email you a photo of a fantastic option for you if your walls and electric are not in yet. I have quite a few clients that now wiring all of their lighting circuits into a closet and then putting the keypads in the rooms instead of 4 or 5 gang banks of light switches. Usually if I can get a hold of the process soon enough - I can cure your home of Wall acne forever and I strongly recommend you consider this option.  Or click here to get more details including information on how to End Wall Acne Forever
RA2 works perfectly & every time so you can install large button back lit keypads in your rooms engraved with what ever options you decide the buttons are to perform for you (you have up to 7 button keypads to take advantage of). Absolutely a Fabulous option and looks gorgeous in both new homes & retrofits. This also works well if you have a basement or good crawl space. Install your dimmers down there and turn your wall boxes into keypad boxes or just install Hybrids. I guarantee you'll be thrilled with the results & convenience. 

If I do not have the exact color you want in stock - I can order that for you. If you need different items - just let me know and I can put a package together for you & ship usually all within 24-48 hours (Yes - I work evenings & weekends). 
Message me today or text to me at 541-331-3421 for custom programming + a link to all of your options. Or click here to view a 36 page brochure on RadioRA 2
Want to get started right away? Click here to view & print my planning worksheet - time is of the essence as my inventory is time sensitive & I only have a few openings a month for programmed systems.
Contact me directly with any questions - I really do use this same system in my own Home everyday & just love it!
Don't like white- I can remedy that - See more Below. Lutron has 26 different colors for switches, dimmers, keypads + outlets with matching screwless wallplate color options - Including satin and stone colors - which can be changed easily at any time.Changing your wall color is harder! - Switch plate can be changed without removing switch or mounting wallplate from the wall - decorators dream invention! They even have stainless steel wallplates (but not switches) - Black with stainless covers looks amazing in a modern home. Pair these with a motion sensor and you'll never have to touch a light switch again! 
Just message me today and I will email you my 36 page Brochure on Radiora2 and all of its Fabulous Options or Click here to view it now - See page 16 & 17 for photos of all of your color options. I can order any color they offer for you.
Interested in Shades to your Home?
Are you looking for a Motorized Shading Solution?
Consider adding Lutron's Sivoia QS Wireless Honeycomb or Roller Shades. Click here for more motorized shading details. We specialized in several different shading solutions from Battery powered Cellular Shades & Roller Shades to wired power options for drapery tracks, venetian wood blinds, horizontal sheer shades, Kirbe Retractable Drapes and even dual Roller Shades so you can have both Privacy Sheers & Room Darkening Shades on one window. Cost for these differs greatly but you can get a bit more information by clicking here.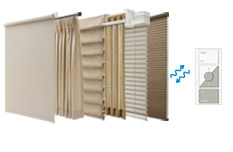 The battery powered line is now called the QS Triathlon Shades which now includes a battery operated Roller Shade. I also carry the Serena shades but be aware these can not be added to timeclocks or RA2/QS automation systems. They are pico remote controlled only. And trust me - having these shades auto open and auto close everyday is worth the extra expense. Set them and forget them forever. Here is a quick demo:http://www.youtube.com/watch?feature=player_embedded&v=hMecpwhYJ3w
Want Exclusive Access to Special Product Releases and Limit Stock Notifications? Click here to get on Limited Time Offer emails..
I recommend that you sign up for a service I offer to my clients - clicking here will grant you Exclusive Access to product releases and limited time offerings that do not make it to the website.
Contact me directly with any questions - I use this system in my Home everyday & just love it!  Text or Call us at 541-331-3421 or email smarthomes@t-crealty.com today!