❶ NEW!!! RadioRA 15 Large Button Tabletop Control - RALB-15T-RL Radio RA - WOW
$ 265.00
start_elivehelp_btncode
end_elivehelp_btncode
end_display_feedback_code_window
★ NEW!!  Lutron RadioRA Master Controller 15 Large Button Tabletop Keypad  RALB-15T-RL-WH 
              Large 15 Button Cordless Master Control with Back Light - Ultra Cool!
Engraving option available for the buttons - See Below.
What is the IQ of your house? We all have laptops, tablets or smartphones now - Why not have Smart Houses as well?

★Buy it now includes Prepaid Engraving Certificate (worth $100), free delivery confirmation, shipping + insurance. 
Retail price: $687.50
New, never used, only 1 box was was opened to take photos. Box may show slight storage wear. Guaranteed to work. I have several of these so do let me know if you want more than one as I bought too many for a project & have a ton left over. You can use this as a cordless remote control for your whole home! Get a second one for your bedroom & you'll be able to immediately see what lights are still on in your home and with 1 push - turn them all off or individually.
RadioRA large button tabletop master controls provide homeowners with a simple and elegant way  to control lights, shades, motorized screens, and many other devices. the master controls communicate with the system through radio frequency (Rf) and have indicator leds to identify the current lighting scene. Buttons can be custom engraved, large backlit buttons are easy to read and provide easy location of the master control, even in a dark room.
Ideas
Put an RA-dimmer in your child's room and if the orange light is visible on your keypad - the light in their room is still on and you'll know they didn't go to sleep as promised...

Setup a Panic button that turns your outside lights on to full and your inside lights on low so you can still move around your home (or I set mine up to turn everything on full).

Add a Kettle Button so you tea pot turns on before you even get downstairs to the kitchen

Setup your Great Room so you can control all your lights + several scenes: Movie, Game, Reading, Entertain, Dining, etc.
Your imagination is the limit when it comes to Radiora!
I have attached two other samples of what these controllers look like engraved. This unit is brand new, blank buttons and comes with stickers for you to play around with. 
I also have a Used & New in open box RA-6D & RA-10D listed in other auctions + Lamp Dimmers and the New Car Safe Entry Package as well - RAMC-MFE-WH with RA-VCTX-WH Remotes - I have more if you are interested in purchasing that extra + another (2) RAMC-10T-RL-WH units,(1) RALB-10T-RL-WH, Used RAMC-15T units and several of the RAMC-5W-AO & RALB-5W-AO In Wall Keypads.
If you are interested in some of these items - do let me know.
Please feel free to ask any questions.
Please note this controller is for Radiora classic - If you are looking for Radiora 2- no worries. I can still help for about the same price.
Radiora2 Tabletop control/keypad with raise and lower options
RA2 5 button Retail is 399
but I can do 327.18
RA2 10 button Retail is 449
but I can do 368.18
RA2 15 button Retail is 499
but I can do 409.18
Benefits of total light control
perfect for any home - new construction or retrofit
no new wiring -  simply replace standard switches with RadioRA dimmers using existing wiring
scalable and expandable
saves energy and extends bulb life
matching components, accessories and wallplates available in a variety of colors and finishes

Backlit buttons make the controls easy to find and use in the dark (white color)

Backlit buttons engraving allows for easy reading at night (black color)

Master Control button columns may be set up to monitor lights or to select presets (room buttons and scene buttons)

Perfect for any home, no new wiring needed- simply replace standard switches with RadioRa dimmers using existing wiring

Raise/lower works on last button pressed

 Single tap activates desired scene, even when unit is in "sleep" mode
System Overview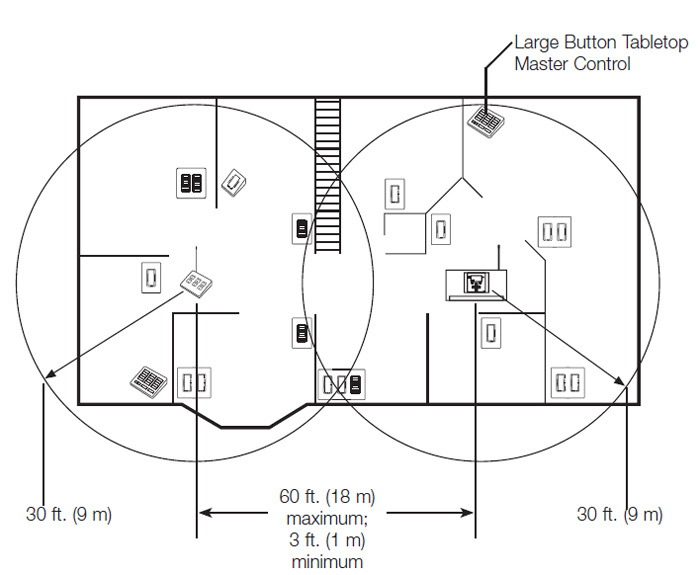 Features
Controls are field-programmable to select whole-house or single-room preset light levels.
Large backlit buttons are easy to locate and press
Indicator LEDs identify current lighting scenes
Choice of two power sources: Plug-in DC adapter; Cordless, using AAA batteries
Configurable backlight intensity for both battery and adapter power sources
Specification
Style
RadioRA
Control Type
Large Button Tabletop Master Controls
Buttons
15 Buttons
Voltage (V)
Input Power: 120V, Output Power: 9V
Finish
Gloss Finish
Color
White
Battery Power
2 each 1.5 V AAA alkaline batteries
Environment
32-104 °F, 0-90% humidity, non-condensing, Indoor use only
Height (In.)
3 1/4
Width (In.)
3 9/16
Depth (In.)
1
Standards
UL Listed and CSA Certified
Warranty
1 Year Limited
★ Buy it now includes Prepaid Engraving Certificate (worth $100) + Free priority shipping, delivery confirmation & insurance!  Message me today with your email address for a link to all of your options.
Terms:
Free Shipping, delivery confirmation + shipping insurance. Guaranteed to work.

PRICE MATCH OFFERS &/or Free Shipping - may be available - message me to find out or fax quotes to 855-331-3421

Please remit payment via PayPal within 3 days.

Please provide confirmed mailing address

I will ship within 1-2 business days of your Cleared payment

Buy it now requires instant payment

Buy multiple items & I'll upgrade to priority shipping

Replacement available if still in stock (may be different color)

Please Note - Radio RA original is not compatible with Radiora2 (Ra2)

Used Radiora or Radiora2 units will need to be reset to factory (easy to do)

Used units will show normal use with some scratches

Need a whole starter package - let me know and I will put one together for you

Once you experience light control - you'll never go back to flipping a switch - guaranteed.

Auction is for 1 item unless specified otherwise. Ask me if you need more - I may have new or used still in stock.

I am a huge Lutron fan so feel free to ask any questions - I have installed Maestro, Maestro wireless, RA & RA2

I can help with most questions about installation as well. No more X-10 for me - Lutron is truly the only way to go.

14 Day Return if defective. I guarantee all items to work - Buyer pays return shipping

Return Policy -  Returns only accepted if defective (which rarely occurs due to Lutron's Fabulous Quality Controls). Please return defective item with delivery confirmation + insured and upon receipt another will be immediately sent to you if in stock or ordered & shipped to you if not on hand. There is a 20% restocking/handling fee to cover shipping, handling & eBay/paypal fees if you changed your mind and no longer want the item only as long as long as it was not used/installed or if upon return the item is not defective. If items show they were installed/used - there is a 30% restocking/handling fee.  If you do not like the color - just let me know and I can order color change kit for you.
Thank you for considering my auction(s)! If you need more than one or multiple items - feel free to contact me anytime - I want you to be happy with your purchase - please contact me immediately if there are any problems. Message me today with your email address for a link to all of your options.I guarantee my items and I will resolve, replace or refund upon return of the item(s). Also I ship insured so we are both protected!
Related Products