❶ Gently Used Lutron RA-600LM RadioRA Dimmer Ivory Radio RA RA-600LM-IV
$ 85.50
start_elivehelp_btncode
end_elivehelp_btncode
end_display_feedback_code_window
Gently Used Lutron RadioRA RA-600LM-IV 600 Watt Dimmer RA Light Control in Ivory - I have a bunch of these if you need more. Photos show white units that are Multi-location but these are Ivory. 
I do have white ones available but they are $85.50 with semi scratched faces or $92.50 with a new tap switch per device. I also have Brand New devices for $98 each. 
If you need White go ahead and do the buy it now and message me that you want the White Color instead. 
Photos show RA-600LM-WH New multi-location model but this auction is for a Used RA-600LM-IV in the Ivory color - semi scratched but still very usable. I do have several of these if you need more + the matching companions required for 3 way installs as well. 
★ Buy it now includes coordinating Ivory screwless Lutron/Claro wallplate & Free shipping, delivery confirmation & insurance!
I also have several more of these + New in open boxes RA-6D, RA-10ds and the New Car Safe Entry Package as well - RAMC-MFE-WH with (2) RA-VCTX-WH Remotes if you are interested in purchasing that extra and other RAMC-10T-RL-WH unit.  Boxes may show slight storage wear.  Please view my other listings.
Please feel free to ask any questions.
Benefits of total light control
perfect for any home new construction or retrofit
no new wiring simply replace standard switches with RadioRA dimmers using existing wiring
scalable and expandable
saves energy and extends bulb life
matching components, accessories and wallplates available in a variety of colors and finishes
System Overview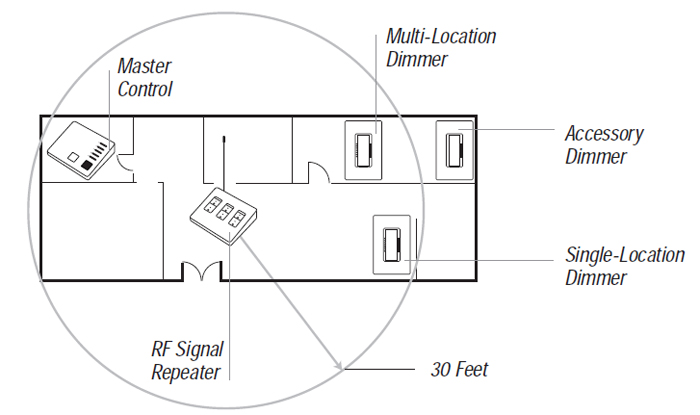 RadioRa Features
Design allows for color changes without replacing the control
Multiple location dimming from Dimmer and Accessory Dimmer
Dimmers always operate locally and do not require central system control
Uses conventional 3-way and 4-way wiring
Coordinating Satin Colors wallplates available separately
Radio RA original is not compatible with Ra2
Terms:
Free Shipping, delivery confirmation + shipping  insurance. Guaranteed to work.

Please remit payment via PayPal within 3 days.
Please provide confirmed  mailing address & telephone number
I will ship within 1-2 business days of your  Cleared payment
Buy it now requires instant payment

Buy multiple items & I'll upgrade to priority shipping

Replacement available if  still in stock (may be different color)

Alarm.com integration now available for

Radio

ra

®

2 & Homeworks QS

Please Note - RadioRA original is not  compatible with Radiora

®

2 (Ra2)

Used Homeworks, RadioRA or RadioRA2 units will need to be reset to factory  (easy to do)

Used units will show normal use with some scratches & not all will come with original packaging. 
Not all new units will ship with all of the instructions due to increased shipping weight/cost. In large systems this can add 3+ pounds to an order. 

Need a whole house starter package - let me know and I will put one  together for you

Once you experience light control - you'll never go back to  flipping a switch - guaranteed.

Auction is for 1 item unless specified otherwise. Ask me if you  need more - I may have new or used still in stock.
I am a huge Lutron fan so feel free to ask any questions - I  have installed Maestro, Maestro wireless - MRF2, RA & RA2
I can help with most questions about installation as well. No  more X-10 for me - Lutron is truly the only way to go.

30 Day Return if defective. I guarantee all items  to work - Buyer pays return shipping. 6NA dimmers are very sensitive so I do recommend you use an electrician to install - you must put brass to the light load and black to the hot line or you will short the switch out. 

Return Policy -

   Returns only accepted if defective (which rarely occurs due to  Lutron's Fabulous Quality Controls). Please return defective  item insured with delivery confirmation and upon receipt another will be immediately sent to you if in stock or ordered & shipped  to you if not on hand. There is a 20% restocking/handling fee to  cover shipping, handling & eBay/paypal fees if you changed your  mind and no longer want the item only as long as long as it was  not used/installed or if upon return the item is not defective.  If items show they were installed/used - there is a 30%  restocking/handling fee. 

 

This will be issued as a credit and you can purchase other items in my eBay store or a replacement device will be mailed to you

.

If you do not like the color - just  let me know and I can order color change kit for you.
Thank you for considering my auction(s)! If you need something  shipped today or if you need more than one or multiple items - feel  free to contact me anytime. I want you to be happy with your  purchase - please contact me immediately if there are any problems. Message  me today for a link to all of your options  or a request to upload brochure via eBay. I  guarantee my items and I will resolve, replace or refund upon return  of the item(s). Also I ship insured so we are both protected!